14/01/2022
At the beginning of 2022, we propose to look back at the most important data issues of the past year through quotes from data experts. 
2021 marked a new stage in the exploitation of data by companies and administrations.
One year after the start of the pandemic, corporate interest in data has increased further. By 2021, it was estimated that 89% of companies had at least one data use case in production*. 
However, CIOs and data teams still face many challenges in handling their data. 
Find in this article, the main challenges that data experts have overcome through their quotes. 
1. The right methodology to succeed in your data projects
The right data methodology is essential to get the most out of data. It will define the basis of your approach. However, 85% of data projects do not produce any value*. To address this issue, our data experts have designed an effective method based on their experience and projects carried out for our clients. 
The Invenis method ensures the quality of your data, the involvement of the teams and the results without waiting for the end of the project.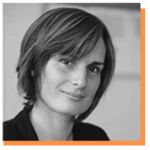 " The agile sprint method allows us to iterate based on results to refine goals and outcomes. This method places a framework while being able to adapt it to our needs. "

Isabelle Brochu, Director of Innovation, Tingari
To discover the 7 challenges to be taken up by the CIOs for a successful data exploitation with the Invenis method, find the practical guide.
2. Structure data governance for better organization
Data governance is a set of processes that enable the control and reliability of the use of data assets. It is the starting point of a successful data approach. Thanks to it, you will be assured of a better quality and accessibility to data for more performance and consistency. 
" Data governance is at the service of data analysis because it makes it possible. We implement this governance in companies that need to make all their actions consistent. Thus, their data and operations actions are more efficient. "

Manon Vigoureux, Data Management Expert and Data Project Manager at EDF Commerce
« Parfois il y a beaucoup de données, il faut identifier celles qui sont pertinentes. Il arrive aussi que nous ayons plusieurs sources de données sur un même sujet. Il faut alors définir sur quelles données on se base.» 

Responsable du bureau de la valorisation des données, DNUM des ministères sociaux
" A data-driven company is especially aware of the value of its data assets and the nuggets within its capital. It will set up governance to put them in quality, manage them and create maximum value for customers or the company. "

Manon Vigoureux, Data Management Expert and Data Project Manager at EDF Commerce
Therefore, it may be necessary to carry out an inventory of the data to be in line with its data reality. 
" We were sitting on a gold mine of data but perceived it as a mountain to climb. With Invenis, we were able to quickly get a baseline and results."

Thomas Petit, Director of Digital Transformation and Information Systems, Tingari
To discover how to enhance your data assets through data governance, watch the replay of Manon Vigoureux' webinar.
3. Cleaning and preparation of data for reliable results
Data compliance is tied to data governance. According to a KPMG study, 84% of executives are concerned about data quality*. There is no doubt that without prepared data, it will be impossible to obtain reliable results. 
Our customers have been able to overcome the challenge of Data Quality - which takes up to 80% of a Data Scientist's time*.
How do they do it? Invenis assists them in the cleaning and aggregation of data and then automates this process. 
" Data is a raw and living material: it needs to be worked and refined to get its full value."

Edouard Nahama, Data Analyst, Invenis
"Sometimes we have little or no formatted data. We also have textual data from which we need to draw a typology. For example, analyzing a work accident report will allow us to determine the cause of the accident. Preparing this data is a real challenge." 

Yves Batel, Head of the Data Valorization Office, DNUM of the Social Ministries.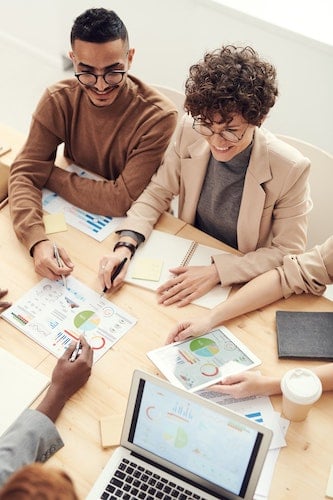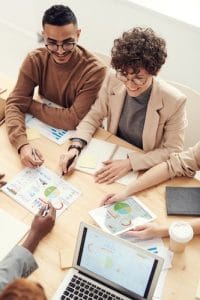 "The problem of data quality is not new. Before embarking on data cleansing, processing, harmonization and aggregation, it is important to understand the business objectives and the ROI that will be generated. Upstream, it is therefore essential to have discussions with the business/end users.

Edouard Nahama, Data Analyst, Invenis
Discover the special Data Quality guide by clicking here.
4. Acculturate and involve the business in your data process
The link between the success of data projects, the quality of the data and the acculturation rate of the teams is now obvious.
Why give a data culture to your teams?
"The need for data acculturation was quickly identified. We need to give meaning to data internally so that everyone can understand its ambition. A company that develops is also for the benefit of its employees.

Isabelle Brochu, Director of Innovation, Tingari.
"The most complex part is not the technical aspects. It's more about the problem of acculturation of municipal services and the way they manage their data. We had to accompany the agents, explain the different types of data, how to process them and finally make them available."

Eric Legale, General Manager of Issy Media.
"You always have to involve the business because it has a 3 - 4 year vision of the value we will produce for the customer. So, they know all the business use cases that will be produced in the coming years."

Manon Vigoureux, Data Management Expert and Data Project Manager at EDF Commerce.
Read Tingari's testimony on the acculturation of its teams to data subjects.
5. Exploiting your data to extract value
Keep in mind that the main objective of data analysis is to extract value from your data to meet a business need. In other words, even before launching a data project, you need to identify the problems of the business teams in order to process your data in a way that will benefit them.
"We never do data for data's sake. You always have to put your data assets at the service of value, so in the context of a use case. We always put data at the service of business." 

Manon Vigoureux, Data Management Expert and Data Project Manager at EDF Commerce.
"A lot of companies can get analysis from their data, but at the same time not know how it works and how to make the data actionable. Instead, my advice is to drive your data in an informed way and understand how you get to those results." 

Nicolas Butez, Senior Data Analyst, Invenis
To be kept informed of upcoming testimonials from data experts and other content, subscribe to our newsletter:
Sources:
https://viuz.com/annonce/2021/12/08/la-maturite-data-des-entreprises-une-question-de-culture-de-competences-et-de-collaboration/
https://home.kpmg/content/dam/kpmg/pdf/2016/06/2016-global-ceo-outlook.pdfhttps://www.gartner.com/en/newsroom/press-releases/2018-02-13-gartner-says-nearly-half-of-cios-are-planning-to-deploy-artificial-intelligence#:~:text=Conversations%20with%20Gartner%20clients%20reveal